Don't Settle For Status Quo
The analysis of roadway asset conditions is expensive, inconsistent and incomplete. Current methodologies typically include manual data collection with inconsistent, subjective data entry and assessment. Furthermore, staff driving vehicles slowly and physically walking to measure road characteristics is dangerous. Do to the labor and time intensive approach, not all roadways are assessed and the ones that are may only be assessed every three years. This lack of data has a negative impact on understanding current roadway conditions as well as understanding how, why and when roads deteriorate. Lack of data compounds the interdependent problems of increased traffic accidents, deteriorating roadway conditions and limited resources. According to the National Highway Traffic Safety Administration (NHTSA), annually, motor vehicle traffic fatalities claim roughly 38,000 lives, injure four million people and cost hundreds of billions of dollars in medical expenses, property damage and lost productivity in the United States. 94% of accidents are user error caused by decaying roadway infrastructure, distracted driving and inappropriate responses. According to the USDOT the poor state of US roadways is a major contributing factor in accidents. In fact, US roadway infrastructure received a D+ rating in a recent American Society of Civil Engineers report which also stated that the poor roads have led to an increase in traffic fatalities.
The Road Triage Solution
Road Triage provides transportation agencies with up-to-date geo-tagged assessments across their entire territory. The unique, holistic approach has the potential to save agencies millions of dollars annually with increased access to roadway information while improving maintenance efficiency, reducing accidents and saving lives. Furthermore, the data can be used to support root-cause-analysis and enable predictive asset decay studies. According to a former state Transportation Secretary, Road Triage has the potential to be a "game changer" to current methodologies while opening new opportunities for roadway safety, planning and maintenance that is not feasible through conventional approaches. Based on results from a 2019 NCDOT pilot project, Road Triage has the potential to provide between $20M - $30M in direct savings over the next decade, with anticipated additional tangential savings. Currently, state DOTs identify primary and secondary roads to be assessed, then hire consultants/contactors to drive and walk selected roadways to gather data. This approach is dangerous for the workers walking unprotected on active roadways. Additionally, the process is expensive and time consuming, resulting in subjective, inconsistent roadway assessment data that may only be updated every few years. Annual subscriptions will cost roughly half as much as the annual costs of current manual DOT methodologies while providing significantly more comprehensive and frequent datasets. Data collection is crowd-sourced via DOT, state and municipal fleet vehicles. Monthly roadway assessment data is provided for comprehensive geographic areas. This allows the DOT to use the Road Triage data for numerous other state and federally regulated maintenance reporting and response requirements – providing additional operational efficiency and cost savings.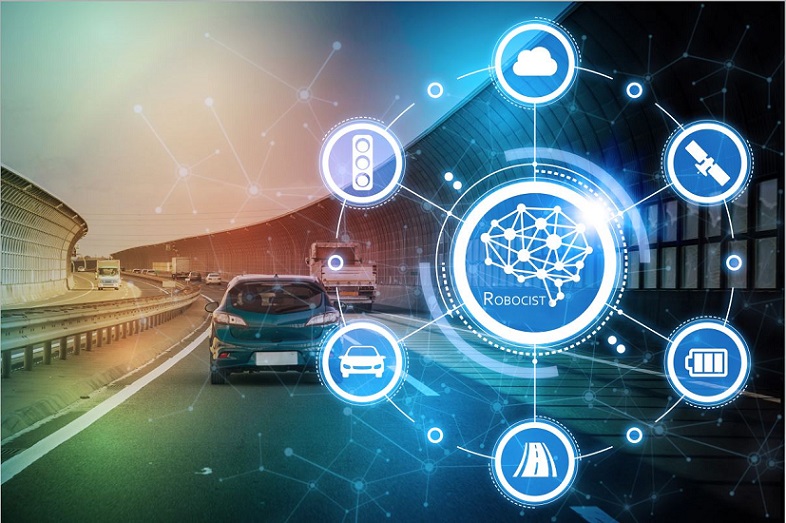 Smart Mobility Consulting
Autonomous and Electric Vehicles are here. Are you ready?
Smart mobility and transportation technologies are advancing at an unprecedented pace! This rapid evolution is transforming institutions and communities in unexpected ways. Robocist is here to help our clients understand these changes, plan accordingly and implement technology, policy, and operational strategies that capitalize on opportunities and resolve challenges. We partner seamlessly with our clients to help them realize their goals. From simple projects to complex ambitions, consider us your mobility and robotics resource.